At So i Heard, your student can record their songs professionally in an environment focused on education. Professional music production at this level is typically unheard of for kids!
While your student can record their music in their weekly lesson, recording music is a project on its own that shouldn't take away from their regular lesson experience. 
The So i Heard Recording Studio is equipped with everything your student needs to have an awesome session:
Vocal Recording Setup / Professional Vocal Microphones
Logic Pro / Pro Tools
Creative and Fun Environment
At a certain point in every student's progression, getting in the studio is an excellent reward for all the hard work they've put in. Your student can record anything from an original song to a fully produced version of a song they've been working on in their lesson.
What is the pricing for music production?
For So i Heard Music lesson students, our rate is $75/hour, including the engineer. If additional musicians are needed to add more instruments to a recording, their rate will be added a la carte. You must be a current or past student of So i Heard to record at So i Heard Music.
Pricing and booking is always done on an hourly basis and sessions are pre-paid. Not flat project rates.
What does a music production project entail? Is it a lot of work?
The amount of work and time it takes to produce and record a song can vary significantly from project to project, depending on what is required and the artist's goals.
If the artist is a singer-songwriter who simply wants to record one or two takes of their solo act with just piano and vocals, that might take only two hours from start to finish. On the other hand, if the artist wants to have a full production of that same song, there is a lot more to it!
To bring a song up to full instrumentation, radio-ready status, expect the following:
An initial 1-hour production meeting, at a minimum, to determine the direction of the song
A 2-hour songwriting and pre-production session to go over the song structure and arrangement
The initial 2-4 hour "basics" session, including drums and bass, some guitar or piano
2-4 hour vocal session
2-4 hour "sweetening" session, where the producer adds special touches and other instruments
2-4 hour mix session, where the song is put together
2-hour mastering session, where the song is shaped to the final, radio-ready form
Expect anywhere from 12-20 hours of recording time for a single song if the goal is a radio-ready production. With that in mind, many artists prefer to record more than one song at a time to make the process more efficient. While one song might take 12-20 hours to produce, three songs might take 12-30 hours since much of the time can be spent working on multiple songs simultaneously. At the very least, the setup time will be cut down on a per-song basis since we can work on recording the parts for multiple songs in the same recording session.
So i Head Music's professional recording engineers will take your project to the next level. Our students have used their recording time to get into their favorite colleges, music groups, and even just to hone their own craft. Check out some of our previous work below.
Previous Projects
Xanthe Miller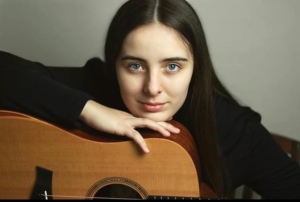 Xanthe 
Miller
 is a student at Bates College in Lewiston, Maine majoring in Music and Economics.
A Short Hills native and 2021 graduate of Millburn High School Xanthe enjoyed taking guitar and bass lessons at SoiHeard Music from 2018-21.
Encouraged by her SoiHeard instructors Xanthe attended the 2019 Berklee School of Music "Summer Songwriting Workshop". This Berklee experience jumpstarted Xanthe's talent for songwriting culminating in her first completed acoustic song "Flying/Falling" followed by five additional original songs.  As a junior Xanthe planned to major in music in college and was required to submit an original music supplement with her 2020/21 college applications. In 2019 So i Heard Music graciously offered to develop and record "Flying/Falling" in their new studio facility as the capstone entry for Xanthe's music supplement. Result: Xanthe was accepted into her dream college Bates as a music major.
In addition to playing the guitar, Xanthe continues to perform as an alto in the Carnegie Hall Choir in Residence – the Continuo Arts Symphonic Choir. Xanthe is also the alto section leader of the Bates College choir.
Check out the project Flying/Falling produced at So i Heard Music.
Austin Boockvar
Austin was a piano student at So i Heard Music who wanted to take the next step. Austin followed the Artist Development program and took a songwriting class, and booked music production sessions at our music studio. With Austin's piano and vocal track as the guide, he and our professional music producer worked together to produce a full song!
Millie D.
Millie, a teenage vocal student at So i Heard Music in Millburn, wanted to take the next step on her musical journey by writing and producing a full song. In addition to her vocal lessons, Millie added weekly songwriting lessons to her time at So i Heard Music. When she was ready, she booked time at our recording studio and got to work on her rock masterpiece! With the help of So i Heard Music's professional music producers, Millie created a pop-rock song worthy of the radio. Masterful lead vocals and stacks of harmonies flow with hard-hitting guitars and drums. Check it out!