LEARN TO BECOME THE ARTIST YOU ARE MEANT TO BE 
Artist development is a step-by-step process to bring an artist to a professional level. Artist development is a custom selection of lessons and recording sessions meant to help your student realize their full potential! 
What is the So i Heard Music artist development program?
Artist development at So i Heard Music is a multi-step approach unparalleled by any other K-12 music program. Students enroll in various private lesson programs with the goal of honing in on their craft and working towards specific goals. Students can mix and match their lessons to work on their chosen path. For example, a student working towards focusing on getting into music college for performance might want to take a songwriting lesson, an instrumental lesson, and work towards producing a song or EP by the end of the year in our studio, in addition to performing a private showcase, if desired. On the other hand, another student who may be working towards getting into a prestigious music conservatory would opt to take a weekly instrumental lesson in addition to a weekly music theory lesson, with a final project involving producing a stellar audio track.
Previous Projects
Xanthe Miller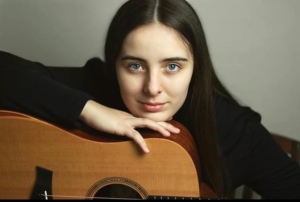 Xanthe 
Miller
 is a student at Bates College in Lewiston, Maine majoring in Music and Economics.
A Short Hills native and 2021 graduate of Millburn High School Xanthe enjoyed taking guitar and bass lessons at SoiHeard Music from 2018-21.
Encouraged by her SoiHeard instructors Xanthe attended the 2019 Berklee School of Music "Summer Songwriting Workshop". This Berklee experience jumpstarted Xanthe's talent for songwriting culminating in her first completed acoustic song "Flying/Falling" followed by five additional original songs.  As a junior Xanthe planned to major in music in college and was required to submit an original music supplement with her 2020/21 college applications. In 2019 So i Heard Music graciously offered to develop and record "Flying/Falling" in their new studio facility as the capstone entry for Xanthe's music supplement. Result: Xanthe was accepted into her dream college Bates as a music major.
In addition to playing the guitar, Xanthe continues to perform as an alto in the Carnegie Hall Choir in Residence – the Continuo Arts Symphonic Choir. Xanthe is also the alto section leader of the Bates College choir.
Check out the project Flying/Falling produced at So i Heard Music.
NGHBRS
So i Heard Music produced a live music video for NGHBRS, a professional rock band from Long Island.
Austin Boockvar
Austin was a piano student at So i Heard Music who wanted to take the next step. Austin followed the Artist Development program and took a songwriting class, and booked music production sessions at our music studio. With Austin's piano and vocal track as the guide, he and our professional music producer worked together to produce a full song!
Millie D.
Millie, a teenage vocal student at So i Heard Music in Millburn, wanted to take the next step on her musical journey by writing and producing a full song. In addition to her vocal lessons, Millie added weekly songwriting lessons to her time at So i Heard Music. When she was ready, she booked time at our recording studio and got to work on her rock masterpiece! With the help of So i Heard Music's professional music producers, Millie created a pop-rock song worthy of the radio. Masterful lead vocals and stacks of harmonies flow with hard-hitting guitars and drums. Check it out!
Robby Aronson
Robbie was a teenage student at So i Heard Music in Millburn who wanted something fun to do in the summer. He took songwriting classes and piano classes, and wanted to apply himself to create something really special! With the help of our trained professional music producers, So i Heard Music took Robby's piano and vocal song structure and built it up to something you wouldn't be surprised to hear on the radio or on TV. Take a listen and pay attention to Robby's message. This is something we can all aspire to live by!